Hunting is our passion. Let us share it with you.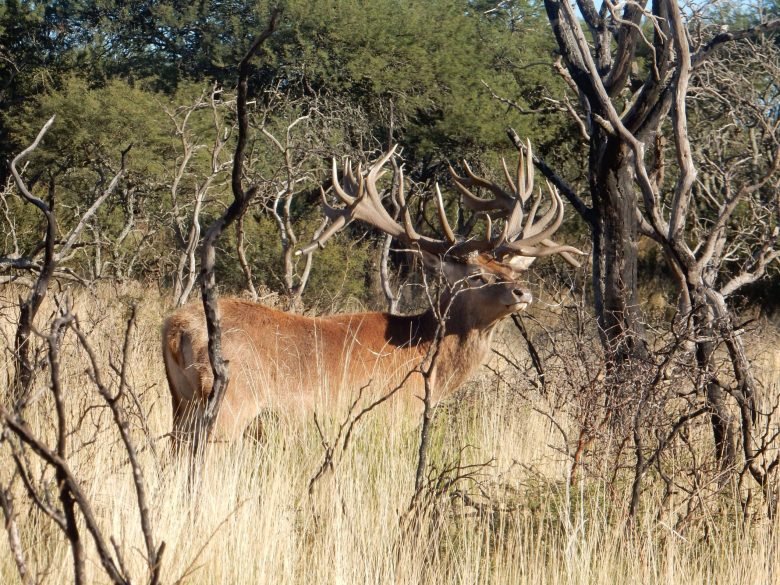 We offer a premium hunting ranch with almost 21,000 acres of excellent pure free range and trophy game.
Mapu Hunting Lodge promises an unmatched red stag hunting experience. The exceptional terrain and the high concentration of hinds attract stag from many miles beyond. During rutting season this results in intense and dramatic roaring. No doubt, it is the most unforgettable and exhilarating experience for a hunter.
Along with the red stag, we offer a wide variety of Argentinean big game, including water buffalo, axis deer, multi-horned ram, blackbuck antelope, mouflon, fallow deer, and wild boar.
During the rut, which begins in early March and goes through mid-April, we always hear the constant roaring of the majestic red stag permeating the wind and every aspect of daily living here. You will be inspired to chase the king of deer. 
We have experienced hunting guides who have hunted a wide range of species across Argentina and know the intimate details of the terrain, the climate, and wildlife within our preserve. Your enjoyment and success are paramount to them, and they will do everything possible to ensure you are well looked-after.
Our hunting grounds are varied, consisting of La Pampa's Calden woods and bushes, fire-breaks ("picadas"), and hills.
Mapu Hunting Lodge offers different types of hunts. Most of our hunting is done using the spot and stalk method. Hunters will be driven to the different section by 4×4 vehicles and continue by foot. 
Our hunts are very exciting with most shots taken at close range, closer than 60 yards on bow and rarely exceeding 300 yards with a rifle. Depending on the weather and hunter's physical condition, hunting from the blind and tree stand is the best option. 
We dedicate a special attention to bow hunters. We know that good bow hunting has special requirements, so we have prepared tree stands and blinds for this type of hunting.
If you are looking to add trophies to your collection, this is the place to hunt.
We tailor every detail of your hunting trip, because we understand that every hunt and hunter is different. We want to create the ideal hunting experience that meets your needs and expectations.